Customer Satisfaction is Our Top Priority
About B&L Septic/ FAQs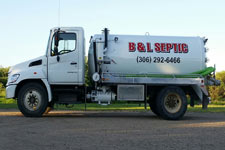 B&L Septic in Saskatoon works with residential and commercial properties in the Saskatoon area to provide a wide range of septic services. We use Goulds Pumps' products in many of our installations and repairs, but we have the knowledge and experience to work with any brand you have on your property. From developing property installations to emergency repairs and anything in between, you can rely on B&L Septic for fast, thorough, and friendly service.
We also receive a number of frequently asked questions from residents and businesses in Saskatoon. Here are the answers to just a few of them—feel free to contact us with any additional questions you may have.
Do I need to obtain a permit to repair my septic system?
In most cases, yes; the reason is to ensure that the person making the repairs is experience and understand the correct procedures and processes for repairing that particular system. B&L Septic works with municipal areas, homes, and businesses to ensure the entire process follows the necessary regulations.
How often will my system need to be pumped?
While it varies by how large the tank is and how many people live in the residence or use the system, the average is every 3 to 5 years.
What does a routine maintenance appointment involve?
A routine maintenance contract includes three inspections per year to check for proper function. Any repair, pumping, and chlorine expenses are the responsibility of the property owner. There are different levels of maintenance to choose from, and we will help you choose the right one for you.
If I suspect my septic system is flooded, what should I do?
If the tanks are covered with water, do not use the system, as this overflow becomes waste water and won't be treated, creating a source of pollution. You should conserve as much water as possible while the flooding goes down, and use caution when opening the tank for pumping when the soil is saturated. It's important to not only control the water flow, but to prevent and avoid contamination. Contact B&L Septic and we will come out to make the needed repairs as soon as possible.